WEA Alert System Helps Sandy Victims Weather the Storm
Posted date: : March 3, 2013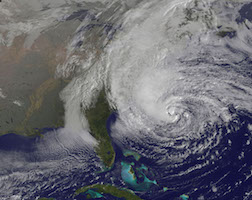 The mobile-based national alert system passed muster during super-storm Sandy. The Commercial Mobile Alert System (CMAS) went live and successfully sent alert messages to mobile phones of residents affected by the hurricane.
The CMAS, which was developed by the Federal Communications Commission (FCC), other agencies, and the wireless industry, is a public safety system that allows customers who own an enabled mobile device to receive geographically-targeted, text-like messages alerting them of imminent threats to safety in their area.
The Federal Emergency Management Agency (FEMA) confirmed that text messages were successfully sent to people located in affected areas like New York, Virginia, West Virginia, Massachusetts, and Maryland. The CMAS, also known as Wireless Emergency Alerts (WEA), sent blizzard and flash flood warnings, as well as details on road conditions and closures, mandatory evacuations, power outages, and public transportation availability, depending on the location.
Many received CMAS messages for the first time and have found the new service valuable. The service though still is in its infancy. Not everyone received the WEA alerts as certain cell phone models are not compatible with the system.