iPhone App Helps Los Angeles Police Recover Stolen Items
Posted date: : March 3, 2013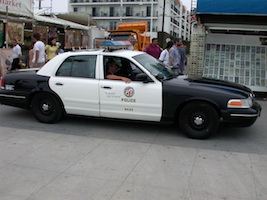 Four armed men took phones, jewelry cash and wallets in a series of Hollywood robberies but were tracked down by responding policeman using the iPhone tracking application of one of the victims.
The Find My iPhone is an app that allows remote location-tracking of iPhones and other Apple devices. Although the app is not pre-installed with the operating system, the app is available for download from the App Store or iTunes. Once enabled, you can track your device from your desktop browser or from another iOS device using the app.
In the case involving the Hollywood area robberies early this month, the victim activated his Find My Phone app to find the location of the phone. This led the police to arrest subjects in a vehicle at Santa Monica and Virgil Avenue.
Aside from the stolen property, the Los Angeles Police Department recovered a pistol, crow bar, pipe and baseball bat, which were used by the suspects as weapons in the daring robberies.
At least three victims have come forward and the LAPD is investigating whether there are others.