Thief loses stolen iPhone to another thief, calls police and gets arrested
Posted date: : March 3, 2013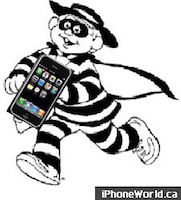 On an afternoon of November 2012, three boys approached a 16 years old girl, who was talking to someone on her iPhone 4S in the Prospect Park, snatched the iPhone from her and ran away from the park.
The girl contacted Officer Denisse Pacheco for help. Unfortunately, the thieves were not found in or around the park. However, they kept on searching for the him.
The thief ran away from the park and tried to sell the stolen iPhone 4 to a man who was walking down the street. That man came to know that iPhone was stolen; he grabbed the smartphone from the thief and ran away. The first thief contacted a nearby police car and filed a complaint with the police officer Arnoldo Martinez. The police officers arrested the second thief and took him to the jail. Now, both the thieves were in police custody.
Officer Denisse Pacheco called the phone number in order to talk to the thief. Sgt Arnoldo Martinez answered the call, and bother the officer understood the matter. They gave the iPhone 4 back to the girl. She was very happy to get her expensive iPhone back again. The original thief was put behind the bars.
The police offers also taught the owner of the iPhone how she can find her iPhone using Find my iPhone service. This service works with the help of GPS tracking. Aside from Operation ID, they also conducted sting operations on the nearby subway so as to arrest people trying to flog stolen smartphones and other electronic devices.