O2 Recycle Touts New Line of Shoe Phones
Posted date: : March 3, 2013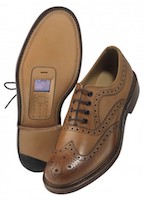 O2 Recycle, a UK company that buys used handsets and resells them for charity, recently unveiled project Walkie Talkies.
The "Walkie Talkies" project presents recycled cell phones built into classic footwear. Designer Sean Miles embedded old Nokia and LG phones neatly within a Christian Louboutin heel, a classic men's brogue, a Nike Air trainer, and a Hunter Boot Wellington. Each phone/footwear mashup is still fully functional and works as a normal phone would, with the keypad embedded into the sole of the shoe. The shoes are expected to cost $4,000 (GBP2500) a pair.
O2 Recycle, created by UK cellular network O2, said the upcycling — converting waste materials into new, desirable items — has been funded by O2 Recycle to draw attention to what can be done with old handsets instead of throwing them to the landfill.
The O2 Recycle collection will be on display in an exhibition slated in March. To be included in the exhibit are recycled phones integrated to handbags and gloves.
More than 30 million new handsets are bought annually in the UK, with many of those phones thrown into a trash.
O2 Recycle pays up to GBP260 for each phone, matching the top price offered by other recyclers. Proceeds from the recycled phones are donated to Think Big, O2's initiative to turn around the lives of Young People in the UK.