Best iPhone Apps for Christmas Shopping
Posted date: : March 3, 2013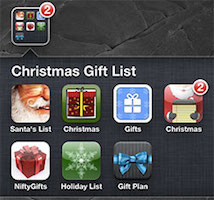 Aside from asking Siri to find items on your gift list, neat apps come in handy for your holiday shopping. Just install an app on your iPhone to be able to complete a hassle-free holiday shopping.
A mobile app that helps Christmas shoppers save time, money and headaches is Better Christmas List, which allows the phone owner to create a shopping list and stick to the budget. A similar app, the Christmas Budget, helps the user track money spent for everyone on the list.
For the biggest shopping event of the year, there's BFAds.net Black Friday, which gives users a list of the hottest bargains from major retailers on Black Friday.
To pay for the lowest price for an item, iPhone owners can use ShopSavvy — just scan an item's barcode or QR code using the rear camera, and the app would give you the best prices for the same product offered by other retailers online or in local stores.
Still not in to the Christmas spirit? There's Christmas Countdown. With this free app, users would receive daily reminders, which would include holiday music, and animations, on the days left until Christmas.